ABC Book News.
Price R115 plus postage (RSA R75)
Order your copy now!
A 214 page full colour book.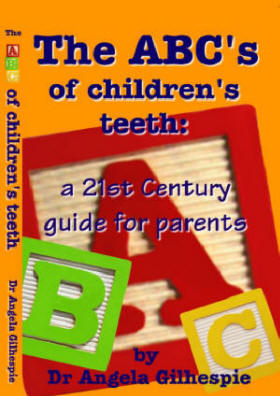 'The ABC's of children's teeth' will change the way you think about your, and your family's, teeth. We are all too familiar with the statements: "he must brush better"; " they eat too many sweets", etc., but very few parents understand how these statements integrate with the overall care required to ensure 'holes' are not the norm. The book deals with the breakdown process and what is required to stop this process in a simple and easy to follow sequence. A is for Acid the cause of the breakdown; B is for Bacteria the main source of acid; C is for Caries the result of acid attack; D is for Diet responsible for the bacterial growth, and so on. By the time you have read up to O for Oral care, you will probably, for the first time, understand how the decay process starts and why it is so important to disrupt this process. You will be motivated and informed as to how, and why, it is so important to have a pro-active approach to this disease. Congratulations! By taking the time and effort to be informed, you are on your way to Z for Zero cavities.
Who should read the book? All prospective and new parents who want to prevent dental problems for their child. It should be read by all the child's caregivers from family members to their babysitters and teachers.
Copies of Published articles:
Expectant Mother's Guide 2009(pdf)
DSA August 2008 (pdf)
Mamas Papas 2012 (pdf)
Truths and Myths of Teething 2013 (pdf)
The prevention of Early Childhood Caries (ECC) 2013 (pdf)
In the Dark about vitamin D 2013 (pdf)
Copyright © Dr. A. Gilhespie 2008. All rights reserved.